MSU Mankato's
Chris Reed
finished fourth in the hammer throw with a toss of 61m/200'1" at the opening day of the NCAA DII Outdoor Track Championships in Allendale, Michigan. Teammate
Bryanna Sudman
was 20th in the women's long jump with a lead of 3.60m/11'9.75". UMD's
Chanel Miller
was 11th after the first day of the heptathlon with 2960 points.
MSU Moorhead's Molly Montonye had the fastest time overall in the women's 1500 qualifiying running 4:27.21. The U-Mary women's 4 by 100 meter relay qualified for the final finishing second in their heat running the fourth fastest time of the day 46.21. U-Mary's Cassandra Jones( 15th overall, sixth in her heat of the 400 in 55.48), her teammate Kathryn Stewart (16th overall and sixth in her heat of the 100 in 11.77), MSU Mankato's Jerrell Hancock(ninth overall and fifth in his heat of the 100 in 10.44) and UMD's Alexandra Rudin(19th overall in the steeplechase) did not qualify for the finals in their events.
Meet results are
HERE
. Women's 10K with UMD's
Sam Rivard
finished tenth in the 10K in 35:42.16. Video coverage of the race is
HERE
(women's 10K is the last race of the day). Photos of the action on the track are
HERE
.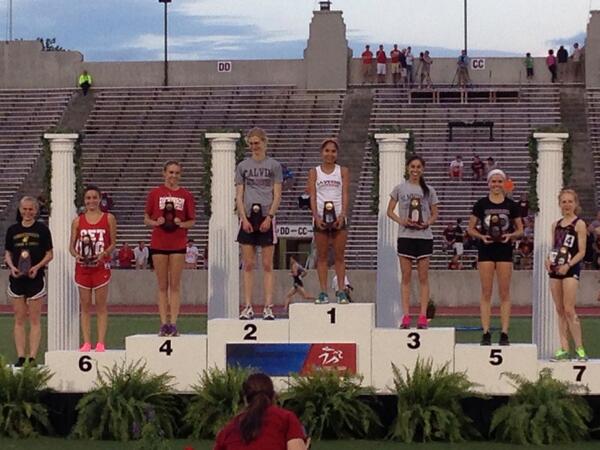 Lauren Rice finishes fifth in DIII Nationals in 35:54.93
Carleton's
Amelia Campbell
leads after day one of the Heptathlon with 3204 points. St. Scholastica's
Becky Huberty
finished third in the women's hammer throw with a toss of 57.53m/188'9". St. Thomas'
Connor O'Neill
placed fourth in the pole vault clearing 5.00m/16'4.75". Augusburg's
Lauren Rice
was fifth in the women's 10K in 35:54.93. Gustavus'
Elizabeth Weiers
was 13th in the women's hammer throw with a toss of 50.29m/165'. St. Scholastica's
Jeremy Peterson
was 19th in the men's hammer with a throw of 51.43m/168'9". St. Thomas'
Maxwell Dunne
is ninth(3510 points), St. Scholastica's
Kevin Wagner
tenth(3446), and Gustavus'
Cameron Clause
16th(3349) after the opening day of the decathlon.
Bethel's
Zach Haskins
ran the fastest time in the men's 1500 qualifying(3:49.42) with the St. Olaf trio of
Paul Escher
(second fastest 3:55.02),
Grant Wintheiser
(fourth fastest 3:55.11) and
Jake Campbell
(sixth fastest 3:55.19) all qualifying for the final. Carleton's
Marcus Huderle
qualified for the men's steeple final with the nnth fastest time in qualifying of 9:09.16. Hamline's
Marolyn Saulsberry
finished 15th in the 400H qualifying in 62.40.
In the team scores, St. Scholastica was tied ninth after day one in the women's standings with 6 points. St. Thomas was tied for 11th among the men with 5 points.
DIII live results are
HERE
. NCAA DIII video replay is
HERE
.
Becky Huberty