NCAA DII regional rankings
HERE
. DIII final national poll is
HERE
.
NSIC weekly women's recap and AOW
HERE
, men's
HERE
.
Sarah Barker interviews Annie Bersagel prior to this weekend's New York City Marathon
HERE
.
Highland Park's Micah Mather is
Pioneer Press
XC AOW
HERE
.
Sun
papers columnist John Sherman makes a pitch for adding co-ed sports
HERE
.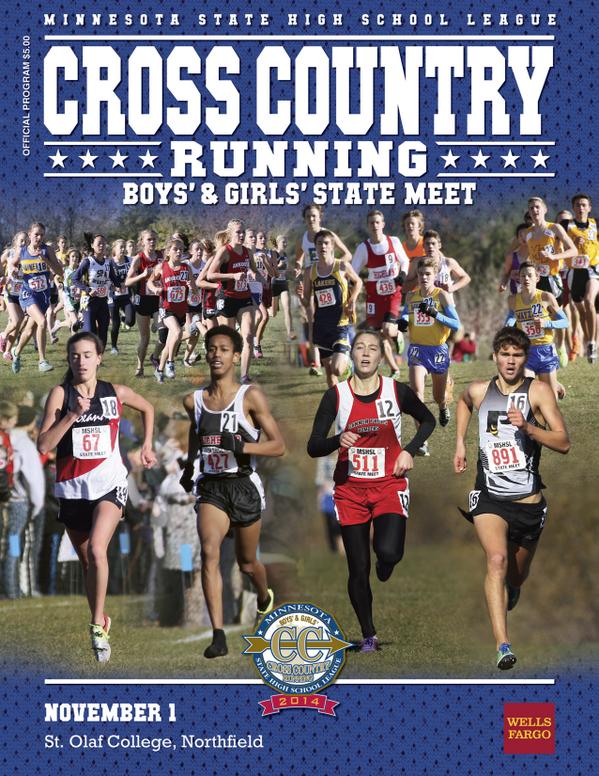 MSHSL XC Champs program cover
Worthington Daily Globe
columnist Les Knutson's column noting that cross country "may be the ultimate team sport"
HERE
Sun Current
recap of Richfield and Holy Angels results from Sectionals
HERE
.
Chaska Herald
story on the Holy Angel's boy's team route to State
HERE
. Hutchinson story
HERE
.
Sun Current
on Eden Prairie girls duo who will be competing at the MSHSL State meet this weekend
HERE
.
Eden Prairie News
story on the EP team's experience in the Section 6AA meet is
HERE
.
Chanhassan Villager
story
on Anastasia Korzenowski's route to the State Meet HERE.
Lakeshore Weekly News story on the Wayzata sweep of the team titles in 6AA HERE.
Mankato Free Press
story on Waseca's goals for Class A MSHSL Meet
HERE
.
Strib
story on Woodbury's Nick Wareham is
HERE
.
Minnesota Daily
article on the diet of the Gopher men's XC team
HERE
. On the Tucker Center for Research on Girls and Women in Sports is
HERE
.
10-year-old wins lifetime entry to Mankato Marathon for her video
HERE
.