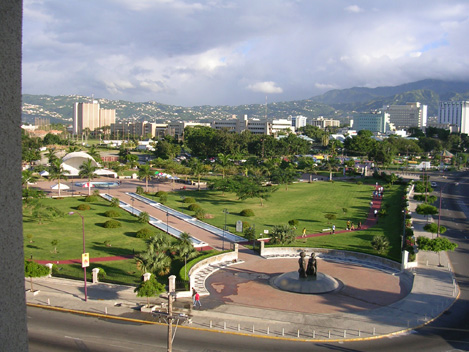 Emancipation Park in downtown Kingston, Jamaica.
Most people think that if you are a professional runner who travels the world to competitions that it is a rather glamorous lifestyle, but the reality does not often live up to the image. Take, for example, the trip Twin Cities Track Club members Stephanie Price and Joe Moore are currently undertaking as part of the US team that will compete in Saturday's NACAC Cross Country Championships in Mandeville, Jamaica.
"We were up by 4:15 AM(Wednesday morning) to catch our 6:25 flight to Miami, where we then connected to a flight into Kingston, Jamaica" writes Price from Kingston. "We were both tired, crabby, and in need of some oatmeal and coffee. Once we got over that hump, the day went smoothly."
Once in Jamaica they met up with the USATF staff and rest of the team. Stayed the night in Jamaica before Thursday's bus trip for "the 90 minute to two hour trip to Mandeville, where our race will be held," writes Price. After they landed in Kingston though there was the task of finding a place and a time to get in a run. Emancipation Park was the "only place recommended for us by USATF staff," adds Price. "With the way people drive around here and the lack of sidewalks, I can sort of see why.
"It was great to get the blood moving in the legs after traveling all day, and it was even better to finish a run drenched in sweat and feeling great. The 85 degrees is much better than the -20 it was in Minneapolis when we left this morning." As you can tell from the picture, Emancipation Park is more the size of Loring Park than Central Park, so Moore and Price ran 500 meter loops repeatedly to get in their 10-mile run.
After that it was time for a shower and dinner, Moore already expressing interest in Curry Goat with fixings, while Price was eager to taste the Bucca juice(coconut). Life on the road for a professional athlete!
Pictures of the US team's at the course are
HERE
. You just have to click through the photo album of shots by Mike Scott. An aerial shot of the course is
HERE
.