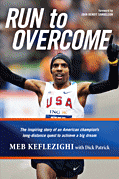 The first time I saw Meb Keflezighi run was at Stanford when Meb was just beginning to make his mark at the elite level in running. He had just won a 5K on the track under the lights. It was the last event of the meet and a crowd had gathered around him down on the homestretch.
It wasn't just any crowd, it was his extended family, brothers, sisters, aunts and uncles, all there to watch and celebrate with Meb, a veritable village of Eritream Americans there to support their favorite son. This strong family connection, their story of immigration to the US, and the experiences they have had in pursuing the American dream are at the core of Meb's just published autobiography,
Run to Overcome
.
Written by veteran reporter, Dick Patrick, the story chronicles the amazing journey of Meb's father out of his native Eritrea to escape the domestic political violence and pursue a better life in the US. It's as much a book about the great melting pot that is America and the pursuit of the "American Dream" than it is about running. Family, friends, religion, and culture form the backbone of Meb's story.
You not only get a glimpse of life on the international running ciruit, but also a view of the reason many Africans emigrate to the US, the difficulties they faced in their native countries, and their drive to succeed. For Meb and his family, the US is the land of opportunity, the chance to escape potential poverty, political violence and persecution, and a very hard life in Eritrea.
While they don't forget where they came from and still have great affection for the land of their birth, there can be little dispute that their's is the classic American success story. The incident last year after Meb became the first American in 27 years to win in New York where a writer called him a "ringer" who, because he was born African, wasn't really an American only gets a brief mention in the book, but it is clear that it stung.
The writer was forced to apologize for his error and Meb writes that his initial reaction was both to sue the writer or ask him to write his biography so he would get to know him better. As he says in the book, he acted on neither thought, but they provide a glimpse of who Meb is. A driven, dedicated, tough competitor who, like any other successful athlete will make you pay for your mistakes or slights, but also a very warm, forgiving person who wants to see the best in people, who makes friends easily, and values those relationships.
The book is full of similar anecdotes about Meb, his family, the sport, and the people he's met on his long journey through the world of what New York City Marathon race director and creator of the internationally acclaimed five-borough extravaganza in the Big Apple, Fred Lebow, called Big Time Marathoning. New York doesn't need stars, it makes stars, Fred used to say, and Meb would certainly agree with that. Despite the fact that Meb won an Olympic silver medal, it wasn't until he won his first marathon in the streets of New York that he really became "a star" in the eyes of the general public.
On Sunday Meb will be defending his title in New York and his book release is timed to take advantage of the afterglow of his victory. It's a valuable addition to running lore and has the unusual format of regular tips at the end of chapters--runner's tip and overcomer's tip. The short bits are designed to motivate and educate readers, especially young readers, on what Meb thinks is important in both those arenas and gives the book an extra dimension.
A portion of any profits from the book will go to his newly formed MEB Foundation, which will "focus on promoting health, fitness and education in the United States and Eritrea." The foundation was also launched during marathon week in New York and is another example of Meb's core values of giving back, sharing the "wealth," just as others have shared with him throughout his life.
As he notes in the book he graduated from UCLA "with a specialization in business," and his acumen in that area is evident as well. He has had a busy year since his New York win making personal appearances, acting as spokesman for products he endorses, working with Patrick to get his bio finished in time for this year's race, and generally maximizing the business side of his running career. He talks openly about some of his endorsement contracts and how they are structured and the book gives a glimpse of the financial details of the sport.
His Twitter and Facebook pages regularly promote his products, such as the www.runtoovercome.com website that was created for the book, the promotion to give away signed copies of the book, and to promote his other sponsorships. It's all part of the American dream, paying the bills, and being a success not only in competition, but in the marketplace as well. Meb's brother is his agent, and Meb writes in the book about how the family invested in a grocery store as part of their pursuit of the American dream. Not a wise investment as it turns out, but, like in running, he notes, you can't win every race and not everything you touch turns to gold.
As the book's title indicates this is not just a story about a runner. It's a life journey, an African journey, an American journey. And on Sunday that journey will continue in the streets of New York.
A copy of the book was provided by Tyndale House Publishers for review.